Often, surgery is not the best option – So what should home-rehab exercises look like for self treatment of torn meniscus?
In this second post in the series we look at your home rehab program, covering exercises to reduce muscle spasm, improve balance and strength a well as an effective self-mobilization technique that will help you make big gains.
As we covered in the first post, a torn meniscus is a very common injury and there's some important points when it comes to anatomy and surgery vs. conservative rehab, so make sure you have a read of that also.
NOTE: You can now get our comprehensive KNEE Injury rehab guide – a full rehab guide that you can download with the click of a button!
Self Treatment for Torn Meniscus



Rehab for a torn meniscus needs to cover four things:
Muscle spasm

Balance and muscle activation

Graduated strengthening

Joint mobility and meniscus healing
This is the order we need to start them in as well as the first step of your rehab is to settle the secondary symptoms, which is mainly muscle spasm and muscle switching off.
This initially reduces pain, improves the range of motion and starts you being able to use it more – which speeds up recovery by helping you optimally load the knee.(1)
Step 1: Muscle spasm – Ease Pain and Improve Range
First 72 hours:
As with most acute injuries, you need to first look after it, to allow initial healing – basically where the "scab" forms and to allow it to settle down. As shown in the infographic on the right, follow R.I.C.E. and avoid H.A.R.M.
Step 2: Switch the Muscles Back on, Decrease Spasm and Improve Balance
After the first 72 hours, it is important to prevent loss of muscle mass and get your muscles switching on again using some simple proprioceptive and stretching exercises:
Single-Leg Balance:

The knee loses proprioception very quickly when injured (you can think of this as the "feeling" or the balance). So to get it back, you need to challenge your balance.

Level 1: Stand on one leg on the floor, when comfortable for 1 minute, progress…
Level 2: Fold up a towel and stand on this, when easy for 1 minute, fold it up thicker or
Level 3: Either roll a towel up tight or use a Balance Board or BOSU ball
Calf Stretch:
Hang one heel off a step for 30 seconds at a time. Once per side.
With knee injuries we lose activation of the distal thigh muscles, just above the kneecap very quickly. This is a nice and easy one (but still very important!).
Sitting in a chair, or in bed with a towel under the knee, extend the knee by lifting the foot up to full extension or pain. Repeat this 20 times, every 2 hours.
Note: Do not force it, and take it nice and slow
Step 3: Start Strengthening the Knee
This is where it finally starts getting less boring! Start step three when it is comfortable to do the above exercises and remember not to push into pain.
Yes these are great for getting your leg stronger again but it is important to start at the right level for you and progress from there through the following:
Lean against a wall, with your feet shoulder width apart and out from the wall. Slide down the wall 1/2 range and no more. Hold this for 5-10 seconds and repeat 10 times. Tip: make this a bit easier on your knee by having a large round ball or Foam Roller between you and the wall.
Level 2, Double Leg Squats:
Again, fee shoulder width apart. squat up and down within the comfortable range. repeat 10 times for 3 sets.
Level 3, Single Leg Squats:
Now, standing on one leg, perform squats, within a comfortable range, 10 reps, 3 sets. Note: with this one you won't be able to squat very low, and that is perfectly fine!
Technique:

To take pressure off your knees, don't let your knee/s go forward past your toes and it helps to stick your bum out further!

Cardio: Keep your fitness up and boost healing by utilizing:

Biking on a Exercycle ideally is great once you have over 90 degrees range in your knee
Swimming is a good one for un-weighted exercise, just stay away from breaststroke
Walking, as able. When you are able to walk pain-free for 1/2 hour, you can try a short jog and build from there.
Step 4: Gain Full Knee Range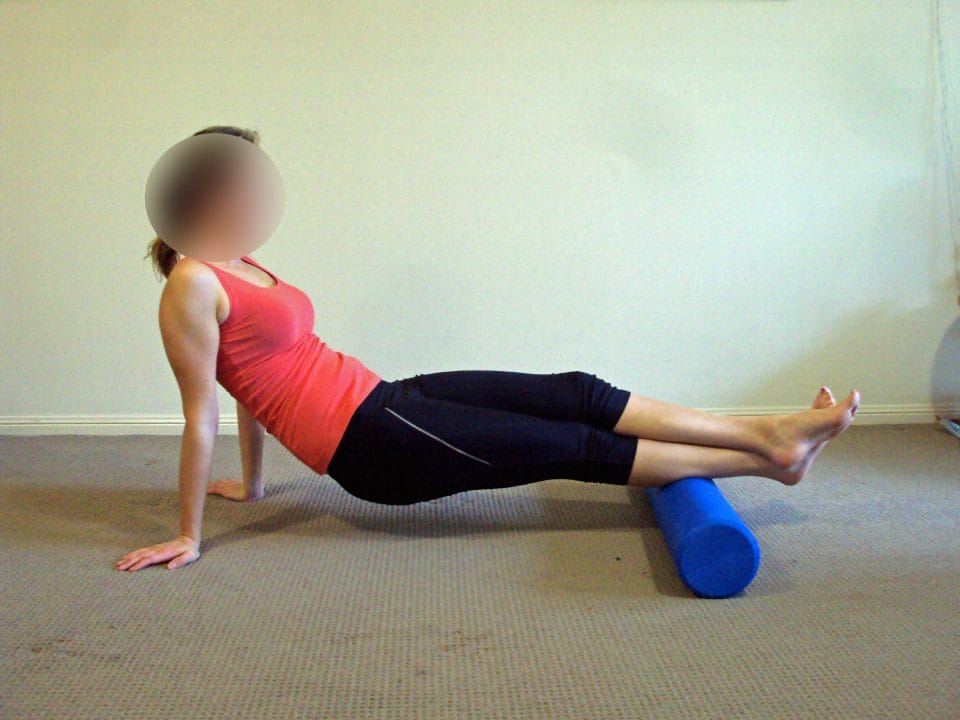 There are three things that will limit range mainly at this point: Joint stiffness, muscle tightness and the knee still healing.
The knee should continue healing, as long as it isn't overloaded, so let your body get on with that.
Muscle tightness can be addressed by stretching out muscles such as your calf, hamstring and quads and also by foam rolling.
Last but not least, joint stiffness can be helped by self-mobilization to improve it's bending and get the joint oiled-up. See the below video for a short and easy demo: