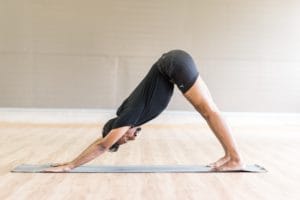 Many people will suffer from back pain in their lifetime. A recent study found that over 80% of Americans will have back pain at one time in their lives.
The costs related to back pain amount to over $100 billion annually. This is due to a decrease in wages and the financial measure of productivity.
Why Yoga for Back Pain?
Our spines and all the supporting factors (muscles, tendons) can only take so much abuse. Yoga for back pain can be very effective in decreasing the need for medication and regaining function.
Lower back pain is caused by many things such as poor posture, constant motion in repetition, or even aging. It's caused by the discs between vertebrae drying up.
They can bulge or rupture as well which presses on the nerves. This is sometimes the pain you'll experience. It's been found that stretching daily can prevent this from occurring and relieve symptoms.
Yoga for back pain can help align your spine and pelvis, it allows the muscles to relax which makes your body more resilient. Yoga poses can ease the tension in your back.
They also work on the system of muscles that affect posture and the lower spine. This includes easing tension in the hips, inner thighs, and hamstrings.
Yoga for Back Pain Instead of Medication
The Journal Archives of Internal Medicine found that those who do yoga are twice as likely to stop or cut back on pain medications.
For those with severe back pain, yoga probably isn't the right option unless you're willing to go through yoga teacher training. You can cause yourself damage by doing poses incorrectly so getting educated on yoga is helpful if you want to take this route.
For those who suffer from everyday soreness due to sitting at a desk, there are postures that can lengthen the spine. This eases the pain while strengthening and stretching the muscle and will promote the alignment of the spine and pelvis.
FOR THE LOWER BACK
Child's Pose
This gentle pose is great for beginners and quickly calms the mind. It opens up your back and stretches it out while relaxing the muscles.
How to Do Child's Pose
Sitting on your heels, bend your body forward. Your arms should be stretched out in front of you and relaxed on the floor.
Bring your belly and head to the mat.
Breathe in deeply until you can feel the breath in your back. Stay in this pose for as long as you like.
Pigeon Pose
Pigeon pose offers a deep stretch in the hips which could be causing your back pain. This hip tightness usually occurs from sitting at a desk for too long. When you deeply stretch the hip flexors, you effectively take pressure off your back.
How to do Pigeon Pose:
Start at table top (on your hands and knees)
Bring your right knee forward, behind your wrist.
Try to place your right ankle in front of your left hip. Where you place your ankle will dictate how deep the stretch is. Feel it out for yourself and adjust when needed.
Bring your left leg back so that it's straight behind you, align your knee with your hip. Point your toes.
Another thing to be aware of is that your left knee might want to fall outwards. Make sure the heel is pointed up to the sky.
Focus now on keeping the hips square.
Bring your upper body down to the ground while keeping hips level. If you need a bolster to support this, go ahead and use it.
To get out of the pose, use your hands to push back. Lift your hips and move the legs back to table top.
FOR THE UPPER BACK
Snake Pose
Snake pose helps stretch out your shoulder, upper back, glutes, ankles, and feet. As you open your chest, you counteract the slouching of sitting for long periods.
How to do Snake Pose
Lie on your belly with your feet hip-width distance. Your arms should be by your side with your palms towards the sky.
Interlace your hands behind your back and press your feet into the mat.
Lift your chest on the inhale.
Exhale and bring your shoulders back further.
Keep your neck long and gradually go deeper into the stretch with a few rounds of breathing. Hold the pose for 5-10 deep breaths through your nose.
FOR THE WHOLE BACK
Downward Facing Dog
The downward facing dog does a lot of stretching in one pose. It is a pose you can do for instant relief and it counteracts any hunching of the back.
It also cleanses your organs and helps the upper and lower back. You get a good hamstring stretch which is connected to the lower back.
You also give the heart a break because you're somewhat upside down. When you do downward facing dog daily, you help improve your posture.
You get a good hamstring stretch which is connected to the lower back and is great for taking pressure off.
Steps to do Downward Facing Dog
Start at tabletop with palms wide. Your shoulders should be stacked over your wrists.
Curl your toes under and walk the palms so they're slightly in front of your shoulders.
Put weight on your palms as you raise your knees off the ground. Focus on trying to bring your stomach to your thighs.
Lift your hips high up into the air and imagine that you're pushing your tailbone to the ceiling.
As you slowly make your way into the full stretch of downward facing dog, try to get your heels on the ground. If you're new to yoga, give it some time but do your best.
For maximum benefit, hold this pose for up to 30 seconds and breathe deeply into the areas that you feel.
How often do I do the yoga for back pain?
It's important to do these poses daily to really experience the results. Ensure that you consult your doctor to see if your type of back pain will be positively affected by a yoga practice. There are plenty of gentle poses that will both relax your mind and your muscles.
This is a guest post by Meera Watts
About the author:
Meera Watts is a yoga teacher, entrepreneur, and mom. Her writing on yoga and holistic health has appeared in Elephant Journal, CureJoy, FunTimesGuide, OMtimes and others. She's also the founder and owner of Siddhi Yoga International, a yoga teacher training school based in Singapore. Siddhi Yoga runs intensive, residential training in India (Rishikesh, Goa and Dharamshala), Indonesia (Bali). You can follow her here:
Website: https://www.siddhiyoga.com/