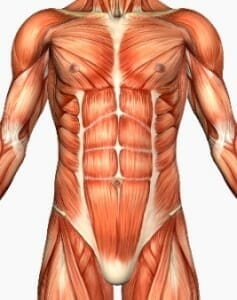 Having a stable core and pelvis has huge benefits through-out the body, including laying a stable base for your legs to work off. This means more bio-mechanical efficiency, less injury AND less pain.
In order to do any lower limb exercise well, including running, squat, weight lifting, tennis etc, you need to be in control of your core. If you don't have a stable base, everything working off it is going to struggle and compensate. This can lead to tight hip flexors, ITB syndrome, patellofemoral pain, ankle sprains, niggles and more.
Imagine a tennis shot, for example. Your are stepping forward and driving off your back foot while at the same time swinging your raquet forward to strike the ball. If you core isn't in control then you are losing force between your legs and arms – losing that strength of the drive from your legs.
Core strength makes your body stronger, not just your abs, by conserving and transmitting energy.
Just for clarification, as "core" can mean different things to different people. Core for me is your Lumbo-Pelvic stability. The combined control and strength of your spine and pelvic muscles.
Quick self test: A great way to test and see how good your Lumbo-pelvic stability is yourself is to do the Single Leg Squat Test. If you see your hip dropping or knee tracking inwards, then you are at risk or injury and need to get started strengthening ASAP.
Poor core stability can also lead to and contribute to all sorts of injuries and pain, including in your:
Low back
Shoulder and neck
Knee and hip
So how do we sort this problem you ask?
Below is an exercise program to get started on that will really make a difference if you stick to it. I also fully recommend finding a good Physio in your area to have your specific deficits assessed to get some manual therapy to speed things up.
Exercises to improve Core stability:
Position: lying on your back, bend one knee so that your heel is close to your backside and straighten the other leg as above so that your thighs are horizontal. Your arms can be crossed over your chest or down by your side to make it easier.
Action: Pushing through your grounded heel, lift your bum off the ground as above, straighten your back and hold for 30 seconds then lower and repeat on both sides.
2. Clam Plus: (Do them right and they are surprisingly hard!)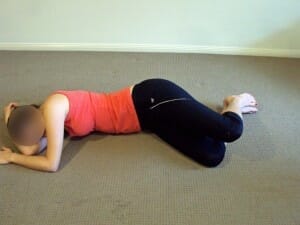 Position: Side lying  with top elbow on the ground, knees bent, ankles together and importantly the top knee sticking out 1-2 inches further that the bottom knee.
Action: Making sure not to let your pelvis rotate backwards and keeping your ankles together – lift your top knee up roughly 20cm and lower down in control. Reps: Build up to 50 reps on each side.
If you have found in the past that normal clams don't do much for you, try it this way with your hip s rolled forward more to isolate Glute Med better and get less Tensor Fasciae latae activation.
3. Double or single leg squat
:

Try performing the Single leg squat, but if you are too unstable (cannot stop your knee going inwards) then start with the double leg squats.
Single leg: 2 sets of 12 reps
Double leg: 3 sets of 12 reps
Tips: stick your bottom out like you are going to sit down and keep your knees out!
Hold this for 60  seconds (if you can, otherwise build up to this).
Tip: do not hang on your hip flexors, tuck your bottom in and bring your hip bones up towards your head.
5. Side plank: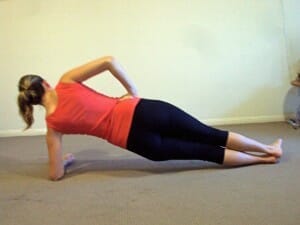 Again aim for 60 seconds here, keeping your body straight!
Too easy? Add in leg raises to this – Raising the top leg straight up and down, building up to 50.
Do this short program  DAILY and stick to it for at least 6 weeks -Let me know how you go!
You may also be interested in:
Iron out your running – What you never got taught
---