Shin splints is the most common lower limb injury in athletes and can lead to large blocks off training and serious injuries such as stress fractures if ignored. Here you will find out, what it is, what causes it and how to treat and rehab it YOURSELF with effective self treatment methods and exercises.
What is Shin Splint?
Shin splints is an Umbrella term that describes pain along the inside border of your tibia(shin) and covers a number of pathologies.
The most common and Injury most often associated with Shin splints is Medial Tibial Stress Syndrome.
Medial Tibial Stress Syndrome
Medail Tibial stress syndrome (MTSS) Is the most common Injury in runners (Lopes et al 2012) affecting 9.5 percent of all runners, coming in just ahead of achilles tendinopathy and plantar fasciitits.
In MTSS pain is felt along the inside border of your shin bone (tibia), it is tender to touch and the tender/ lumpy area is larger than 5cms.
MTSS is caused by repetitive contraction of the calf muscles causing excessive stress on the tibia.
The calf muscles (namely the soleus, flexor digitorum longus and tibialis posterior) attach onto the inside border of the tibia.
Repeated pulling from any of these muscles at their attachment causes micro-tears which causes inflammation, pain and excess tissue build up.
What Causes Shin Splints?
Now this generally happens due to one or a number of the following reasons:
Sudden increase in training that your body isn't used to.
Change on footwear or training surface, eg. going barefoot (minimalist running) or changing from flats to hill running.
Poor hip control causing excessive internal rotation.
Over pronated foot type.
Poor running form (See Ironing out your running).
Differential Diagnosis:
Stress reaction and stress fracture:
These also cause shin pain and can be caused by MTSS or occur by themselves due to over training so it is important to have these ruled out by your Local physio if there is pain when you: tap on your shin bone, jump on your heel or if the pain is localised to one spot on the shin.
Treatment and Exercises for Shin Splints
Shin Splints or MTSS is far too often ignored and put aside as calf tightness until it is far worse than is should have got.
Which means some serious time off training and a lot of money spent on rehab.
Below we are going to run through exercises and self-treatment that will both help heal your MTSS/shin splints AND prevent them happening again.
All of these need to be done 2 x daily if you have shin splints.
1. Calf Stretch:
Drop your heel off a step and hold it for 1 minute.
---
2. Foam roll your calf: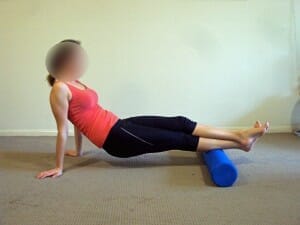 Position as shown in the picture to get as much weight through the roller as you can. Spend 2-3 minutes slowly rolling your whole calf – ignore the pain!
Tip: You can also give yourself and self-massage, which is really effective at reducing tension and getting right to the point!
---
3. Sling stretch for hip range:
Hold for 1 minute.
---
4. Single leg bridge for hip stability: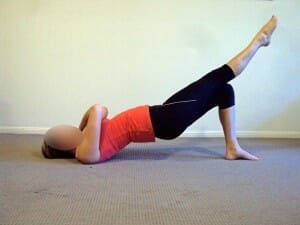 Hold for 5 seconds, 2 x 12 reps each side.
---
5. Single leg squat 
For lower limb strength and stability: To make it harder and better for lateral stability, keep your free leg out to the side.
Do 2 sets of 12reps each side.
---
Make the above exercises a routine even when pain-free!
Self treatment:
The main technique that will benefit you is self deep tissue massage. Check out this post for a easy video demo of this.
Tinker with your training:
– Decrease your training load to allow healing to take place
– Decrease hill running and running or walking on hard surfaces
– Take a good look at your shoes and consult a Podiatrist of Physio re your foot mechanics.
– Once pain has gone, start SLOWLY building up your training again.
So there you have it, your guide to Shin Splints Treatment! Take some time to check out some other great posts that will help athletes and runners out a huge amount in preventing lower limb injuries as it is ALWAYS better to prehab!
– Iron out your running – run faster, easier and injury free.
– Quick balance and stability test.
– Glute activation – the missing link
Please Share and like and let me know how you get on!