Hip Arthritis affects 11.5% of men and women and can be an extremely debilitating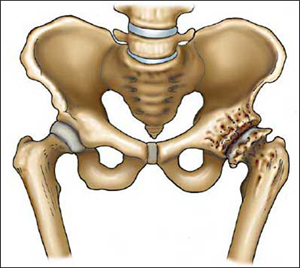 disease for those of you affected.
Clinical guidelines for best treatment recommend a combination of conservative non-drug treatment and drug therapies and in particular a focus on "self help and patient driven treatments".
This is what I want to give you today – the information, advice, tools and exercises that you need to decrease the pain and limitations from Hip Arthritis and feel great!
Article layout:
Risk factors for hip OA
Exercise program
Physical activity and weight loss
Physio benefits and self-help tools
What are Risk Factors for Hip Arthritis?
Developing arthritis of the hip is due to a combination of factors that add up to increase the load through your hip joint and leading to increased degenerating and bone growth.
Below are the main factors leading to Hip OA:
– Joint shape and past injury
– Predisposition to OA: Gender, age, race, genetics
– Poor muscle function and stability surrounding the hip
Factors Adding to OA Pain and Progression:
– Obesity
– Physical activity levels
– Co-morbidity
– Muscular function.
There are definitely some factors there such as joint shape, past injury and age, that we cannot alter, but there is A LOT that we can help with and improve.
In the rest of this post, that is exactly what we are going to do!
Goals of program:
– Unload the hip joint.
– Strengthen and stabilize muscles surrounding the hip.
– Address the contributing and aggravating factors.
Exercise Program to Help With Hip Arthritis:
Bird-Dog Exercise
Goal:
In order to increase muscle coordination and glute activation.
Action:
On your hands and knees, slowly extend out your opposite arm and leg, hold for 5 seconds then lower down and repeat 10 times.
Tips: start with just one leg if this is too hard.
---
Bridge Exercise
Goal:
To increase strength and activation of low back and hip extensor muscles.
Action:
Lying on your back with knees bent, squeeze your glutes and lift your bottom and low back off the ground. Hold for 5 seconds, lower down and repeat 10 times.
Tip: to advance, cross arms over chest and keep one leg straightened out in the air.
---
Clam exercise
Goal:
To increase hip stability and balance and to reduce hip drop when walking.
Position:
Side lying with top elbow on the ground, knees bent, ankles together and importantly the top knee sticking out 1-2 inches further that the bottom knee.
Action:
Making sure not to let your pelvis rotate backwards – lift your top knee up roughly 20cm and lower down in control. Reps: Build up to 30reps on each side.
---
Hip Flexor Stretch
Goal:
To unload the hip joint, by lengthening tight muscles.
Action:
In the position shown, reach up tot he sky, tuck your bottom underneath you and hold for 1 minute.
Tip: Add a cushion under your knee if sore.
---
Glute Stretch
Goal:
To unload the hip joint, by lengthening tight muscles.
Position:
starting on hands and knees, bring one knee in between your hands and straighten the other leg behind you. walk your hands out in front, first onto your elbows and then reaching out if possible.
Tip: Take the back leg across to the opposite side.
---
Double and Single Leg Squats
These are advance exercises that helps make the hip stabilizers work in unison and are great for those of you with mild OA.
Start performing Double leg squats and progress to 1 legged, making sure not to work into pain.
Tip: stick your bottom out like you are going to sit down.
---
Do all exercises daily and twice daily if you have the time!
Physical activity and weight loss
Increase load though excess body weight can cause increased pain and disease progression and is something we can definitely do something about!
Having a graded exercise program where you gradually increase your activity levels can decrease, pain, increase quality of life and importantly reduce the need for joint replacement in people with hip osteoarthritis.
The best way to do this? set an achievable goal eg. Bike, 10km, walk 3 km, run 20 minutes, swim 500m etc and the time you want to do it in(eg. 2 months) then build slowly towards this!
Not only will exercise help your hip arthritis but it will improve your peace of happiness and well-being over-all!
There is a lot of people out there saying to stay off arthritic joints but exercise has been proven to be very beneficial for arthritis.
It is a matter of doing what your body can handle – swimming and biking are great as they put less load through the joints.
The Benefits of Physiotherapy:
The benefits of manual therapy are very real and can make a huge difference to your pain and movement.
To help out with the great work to you do at home (see exercises above!) I fully recommend consulting a good hand-on Physiotherapist/ Physical Therapist and you won't be disappointed.
Please Share, like, subscribe and let me know what you think.
Quick Stability and Balance test