Limited ankle range can cause you a lot of problems, and not just at the ankle.
Can you spare 5 minutes to improve your ankles and in turn, your running?
Well then you are in the right place! As I discussed in last weeks post, whether you're an amateur, weekend warrior or a pro, good ankle range is a must for many basic movement patterns. If you don't have it, you can't squat right down, you can't have a proper stride when walking or running AND it loads up other areas of your body causing pain and injury.
But luckily, there are three easy exercises that you can do to improve your ankle range.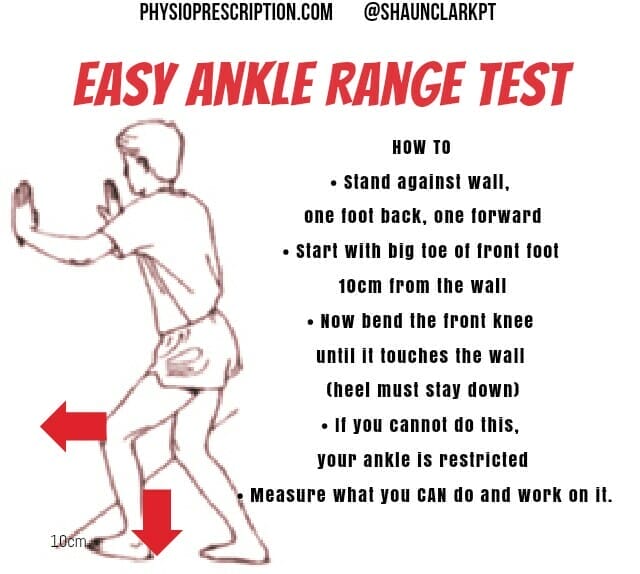 First: Have a quick look at the post I mentioned above to take the ankle range test, so that you know your score (this way you can see how well you improve!)
These are the three things will improve your score in days:
1. Calf stretch
Lets get the basics right. The easiest way to do it is to, one foot at a time, drop a heel of a steps, as shown.
Hold this for 30 seconds
Swap over and do the other foot, and then you are done.
2. Self myofascial release – Plantar fascia and calf
For the second exercise, you need to work over some of your tight soft tissue (muscle and fascia etc)
First, get a nice firm ball (eg, tennis ball, lacrosse ball). While standing, place it under one foot and apply medium pressure. Now slowly roll it around the bottom of your foot, right through the arch for 30 seconds on each side.
Second, get your Foam Roller – if you don't have one, either buy one (great investment) or use a ball. Get down on the ground and spend 1 minute on each side, nice and slowly really working in through your calves.
I know that was really two exercise, but I'm sure you can handle it!
That's four minutes so far, one to go…
3. Ankle mobilization exercise
Check out this video by Adam Kelly, that demonstrates this exercise well – All you need is a strong elastic band or a willing helper and do this for 30 seconds on each ankle.
Done. You have just decreased your chance of ankle pain running, walking and more.(1)
I challenge you to make this a daily routine for 10 days and re-test and see how much your score has improved!
Let me know how you get on and be sure to subscribe for more.
---