Your Quadratus Lumborum muscle (better knows as your QL muscle) can cause you all sorts of back pain and refer pain into your hip and glutes. Having weakness in your QL muscle can mean recurring and frustrating back pain that can cause way too much trouble
So following on from our previous article on how to treat the QL yourself through an easy muscle release, here is how to strengthen it up and beat low back pain.
So, what does your QL muscle do?
Easy, it comes from the top of your pelvis (the iliac crest) and attaches on to the bottom rib and the side of your spine. From there, it acts to help you extend backwards, bend to the side, bend forwards and can help in breathing.
So the QL does rather a lot. Not only that but because it attaches to all your lumbar vertebrae and your pelvis, when it goes into spasm, it can really pull on your spine and can also lift one side of the pelvis – Making it seem like your "back is out"
And you know what? The QL can be a real pain in the butt.
Literally. As with a lot of muscles in the body which cause you to feel pain elsewhere and not where the real issue is. The QL refers pain into the buttock and side of the hip, making it quite deceiving as to where the pain is actually coming from.
Symptoms of QL muscle dysfunction:
Deep, aching in the low back, often worse in sitting or standing
Pain with coughing and sneezing
Pain rolling to either side when lying on your back
Pain can refer to the groin and mimic sciatica symptoms
You may have one side of your pelvis lifted higher than the other
Strengthening exercises for the QL:
Side plank
Level 1: Hold
Build up your QL endurance by holding a side plank.
Aim for a one minute hold (this is the goal, you may not be able to do it straight away!)
Tip: don't stick your bum out, tuck it in
.
.
Level 2: Leg lifts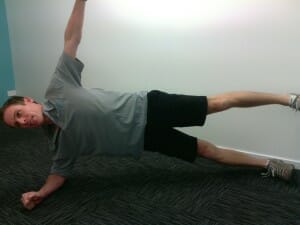 When you can hold a straight side plank comfortably for a minute, step it up.
Lift your hips up into a side plank but now lift your top leg up and down while holding the side plank.
Aim for 3 sets of 10 reps, but you may need to start with less reps!
Tip: don't let your top leg come forward or toes point up.
2. One sided farmers carry
Here, the QL muscle on the opposite side to the weight you are carrying is working hard to keep you upright.
Hold onto a dumbbell or kettlebell in one hand and do some laps (e.g. 10 x 10m laps on each side)
Tip: try to stay upright!
And that's it. Easy. Combine those few exercises into your workout at least 3 x weekly to improve the strength of your QL muscle and help beat back pain.
Looking for more? Download out Complete Low Back Self-Rehab Guide
Tip: This is a great stretch to help unload the low back!