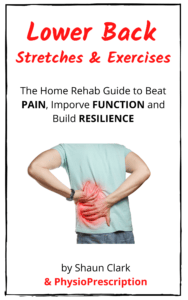 This Low Back Stretches and Exercises Guide is for those that want to ease pain and improve their function, mobility and strength.
Whether you have had back pain for three days, 3 months or three years, the advice and rehab in this guide will help you gain more movement, better function and less pain by taking your treatment into your own hands.
The great news?
Low back pain is a self-limiting condition. This means that it will largely settle by itself without treatment or intervention.
90% of people with Low Back Pain will recover in 3-4 months with no treatment.
70% of people with Low Back Pain will recover in 1 month with no treatment.
50% of people with Low Back Pain will recover in 2 weeks with no treatment.
The bad news?
The above figures are a bit deceptive as the recurrence rate is quite high. That means, the likelihood that your pain will come back again is high. At least 1/3 of those that get low back pain have another episode of low back pain within a year. To top that off, having more than 2 previous episodes of low back pain triples your odds.
Much too high. That is why following a rehab guide and going the extra mile to ensure your back gets not only painfree but back to full function. Through the right lower back stretches and exercises you can make this happen and decrease your risk. It not only speeds up recovery times but most importantly means you are less likely to get lower back pain again.
The answer?
Follow through with Physio Rehab Exercises to:
Speed up your recovery
Improve back muscle strength, flexibility and conditioning
Reduce risk of re injury
Ultimately enjoy the things you love more!
Get started on simple and easy lower back stretches and exercises here: