Treating a sprained ankle the RIGHT way early on means a stronger ankle, faster recovery and less chance of re-injury. In this series, I will tell you what a sprained ankle involves, the most effective self-treatment and the best rehab exercises to get you back out there!
This post is Level 1 but when you need to step it up after the first 48-72 hours, switch over to the Level 2 and Level 3 rehab exercises. Alternatively, you can skip the hassle and download our comprehensive Sprained Ankle Recovery Guide
First of all, a little information about what a sprained ankle involves, but if you are in the know about Sprains already, skip the info and scroll down to Self – Treatment
Sprained ankles are known by a few different names:
Twisted ankle
Rolled ankle
Lateral ankle sprain
Inversion ankle sprain
And of course "Oh no!"
The most common type of sprained ankle is the lateral ankle sprain (85%), and that is what we are going to discuss and sort out today.
Mechanism of injury: The plain and simple is that a sprained ankle is typically when your foot is forced inwards (inversion) and down at the same time. This often happens when changing direction, turning and/or on uneven surfaces). This puts the ligaments under too much stress too fast which causes a tear of one or more of your ankle ligaments.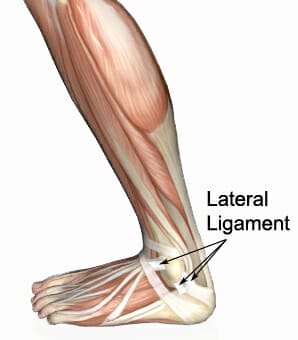 Quick anatomy: The lateral (outer) ankle has 3 ligaments supporting, with the weakest of these (and so most often injured) being the ATFL. The ATFL is the Ligament at the front of the ankle shown here and in most simple sprains, this is the one torn with or without the ligament below it.
Sprained ankle recovery time: The general recovery time is 2-6 weeks (if looked after properly). Keep in mind, even if it feels bad now if you do all the right things you will be one of the 95% who returns to sport and activity within 6 weeks.
Not taking ankle rehab seriously often leads to far too many chronic ankles, long-term disability and other injuries so YOU NEED TO TAKE THIS SERIOUSLY!
Note: it is important to rule out fractures early on. An accurate way of doing this is using the Ottawa ankle rules, or going to see your local Physio for a quick assessment – These rules are great for minimizing unnecessary X-rays.
Sprained Ankle Self – treatment
Initial management: In the first 72 hours it is very important to follow the RICE and HARM principles – This
will take weeks off your recovery.
Do: POLICE
This has changed from the previous RICE recommendation, see more on this HERE.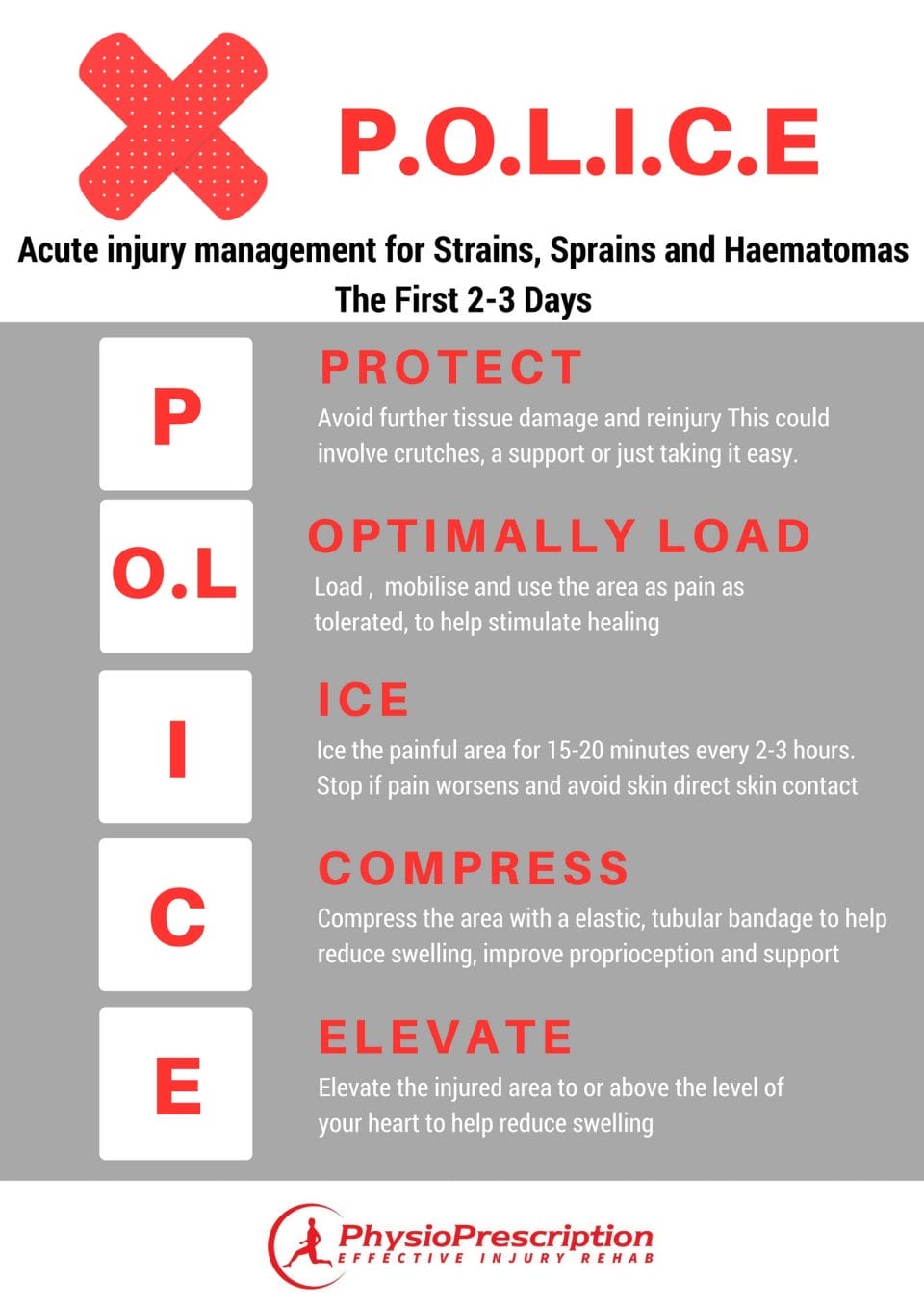 Note: Don't wear compression at night time
Don't: HARM
Heat
Alcohol
Running
Massage
HARM increases blood flow to the area, worsening inflammation and so causing more secondary damage and a longer healing time.
Protect: Braces have been proven to reduce re-injury rate and improve recovery so check out your options here
Keep moving (within reason of course) – It is important not to baby sprained ankles and start weight-bearing through them as soon as possible. This helps to normalize movement and decrease the loss of muscle activity. If necessary you may need to be on crutches for the first 24-72 hours then move to partial weight-bearing and then full weight-bearing.
Foot paddling is a great exercise to do in these early days – In sitting or lying, simply point your toes up then down repeatedly in a pain-free range. You can try doing small circles with your foot also, remember not to push into pain. Do this every 1-2 hours (little and often)
Footwear: Wearing good supportive footwear with heel and arch support(such as your runners) is great as this takes the pressure off the injured ligaments and lets them heal well. DO NOT WEAR HIGH HEELS (Please!).
AND THEN: After the first 48-72 hours of doing this, click over to the next stage of rehab exercises to get started rehabilitating your sprained ankle or skip the hassle and download our comprehensive Sprained Ankle Recovery Guide.
And remember you still use ice after the first few days whenever it is sore or swollen.