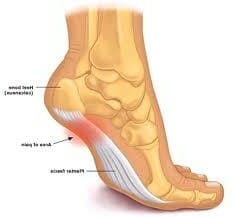 Heel pain running is one of the most common running injuries and can really put the brakes on living an active life.
Today we will sort out some hidden causes behind heel pain!
What Causes Heel Pain While Running
Heel pain running is most often caused by Plantar Fasciitis and this is what I will be writing about today.
The pain will be on the base on your heel – if it is on the back of your heel where your Achilles tendon attaches to the bone, that is another matter and I see to this in a future post.
What is Plantar Fasciitis
Plantar Fasciitis is the 3rd most common running injury behind "shin splints" and Achilles tendinopathy(Lopes et al, 2012).
Yet is something than can be improved quickly if the right things are done to help it.
Earlier in the week I wrote a post explaining Plantar Fasciitis and how re rehabilitate it at home.
Have a quick read of that as it gives you a good base knowledge for what we will talk about next and also shows you the exercises you should be doing if you have heel pain.
Why Check Your Running (or Walking) Shoes?

This is very important, especially with the new craze at the moment being lightweight, flexible footwear.
Giving the foot move movement is fantastic if you have great foot mobility, flexible, strong calves and fascia.
But if you don't have that then these can really increase your chances of getting heel pain OR worsen it.
This is because when you are running, as the heel comes up off the ground, your big toe is pushed up, putting the fascia on the bottom of your foot on stretch.
This is a natural spring-like mechanism called the windlass mechanism, which when you have heel pain, can really tug, pull and stretch at your heel – Causing you more pain and inflammation.
What is the Best Footwear if You Have Heel Pain?
You should wear running shoes with a supportive arch (some padding under the arch), heel support (not zero-drop shoes) and with reaonably inflexible sole.
It doesn't matter if you have Plantar fasciitis, achilles pain or shin splints, this applies to them all.
Over all it is very important to get your shoe matched for you as every persons foot is different and moves in a different way, there is no perfect or "normal" way for a foot to move.
If you are trying to venture into minimalist running shoes or even barefoot running, it is very important to do this progressively as your muscles work very differently in different foot wear or lack there of.
Get Your Running Technique Right
A recent study by Shih, Y et al 2013 showed what affects load and stress on the muscles and tendons most is your running technique and not shoes.
So it is important to get you technique right (form before footwear) before heading into minimalist shoes or making any big change.
The study also showed that forefoot running (which a lot of people start doing when they go into minimal or no shoes) increased the work of your calf muscles.
Which leads to increased risk of shin pain, achilles pain and heel pain.
What Role do Hips Play in Heel Pain

Often with lower limb injuries there is glute weakness that is contributing to this.
Having strong hips that can control your foot and knee, absorb force and power you forward is so important and if you are not already regularly strengthening your hips, you should add this to your routine.
First of all it is good to test you hips to see if you do have a problem: Have a go at this quick balance and stability test to see how you stack up.
And HERE is the glut strengthening for you that I prepared earlier – This can really decrease your injury risk and improve not just your running but everyday function.
End Note:
Minimalist and flexible shoes are not a bad thing if you go about it the right way but for heel, calf or shin pain they should not be your first choice.
Please like, share and let me know how you get on 🙂