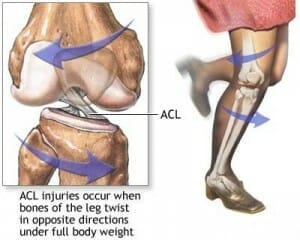 Injured your ACL? Strengthening and rehabilitating the right way after ACL injury means less arthritis, faster return to sport and a more stable knee – So why wouldn't you?
First and foremost, an ACL injury needs to be confirmed and then you need to ask yourself: Do you really need surgery?
Most likely, you won't need surgery unless you are a high-level athlete or want to return to pivoting and high demand sports – the above post explains this in more detail and will help explain your options.
Why does a knee need to be strengthened following ACL injury?
The ACL is right in the middle of the knee and prevents the tibia sliding forward on the femur and prevents excessive rotation. It is one of the four main  ligaments in the knee that give passive stability
So, simply, if you have an ACL injury – you have less passive stability in the knee and need to make up for this. This is done by improving the active stabilizers – Your muscles.
This is the same whether you have done a partial or full rupture – If partial, you need to unload the ACL and support the knee while it is healing. If you have ruptured it, then you need to replace this loss with increased muscle supports.
Why hamstrings are your savior: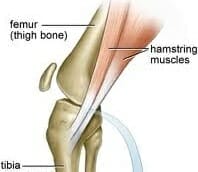 To better understand a few of the below rules of rehab, it is important to know about the role of the hamstrings. The ACL works to prevent your tibia (the shin bone) sliding forward, when landing, kicking, twisting etc. Luckily the hamstring also does a similar job – they travel down the
ACL Injury Rehab Rules:
1. Closed-chain before open-chain exercises
Why: First of all a quick explanation of open and closed chain exercises for those of you who don't yet know: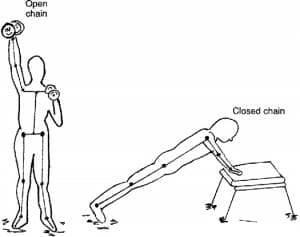 Open chain: Simply, your hand or foot is free to move in the air while doing open chain exercises – the chain is not continuous. Such as bench press, biceps curls, and hamstring curls.
Closed chain: This is when your hands or feet and planted, in constant contact with a surface. Such as a push-up, squat or leg press.
A study investigating the tensile forces placed on the ACL during a range of exercises found that there is significantly less force through the ACL during weight-bearing (closed chain) exercises when compared to open chain exercises – hence unloading the ACL and putting less forward pull on the tibia.
For example:
0 Newtons of ACL loading during barbell squat, leg press, wall squat, front or side lunge (closed chain)
59 Newtons of ACL loading during single leg squat (closed chain)
Seated knee extension (open chain): 396 newtons
The exception of this is seated knee flexion (hamstring curl) this is an open chain exercise but produces 0 ACL loading – this is because as discussed earlier, the hamstrings support the ACL by holding the tibia back in place.
It has also been shown that closed chain exercises recruit important stabilizing muscle groups of the hip which play a big part in knee alignment and proprioception.
2. Lean forward at the hips
Why: Because the hamstrings originate from your sitting bones (ischial tuberosities) at the back of your pelvis – If you tilt forward at the pelvis more as shown here it acts to lengthen out the hamstrings. Thus increasing hamstring tension. As we now know that the hamstrings are important in stabilizing an ACL deficient or injured knee – this is what we want! So don't try to keep your body straight up and down (it is pretty hard to squat like that anyway). Actually, the optimal forward trunk tilt was shown to be 30 degrees as this increases hamstring muscle activity and force – Ideal!
Don't stretch your hammies
3. Balance it out: Don't stretch your hamstrings or idolize your quads
Why: Your quadriceps and hamstrings play a tug-of-war on the knee – the quads pulling the tibia forward (increasing ACL tension) and the hamstrings pull the tibia backward (decreasing ACL tension). You need to make sure there is a balance here by making sure your hamstrings stay tight and strong and when strengthening your quads – only do this in closed chain exercises in order to get co-activation of the hamstrings and hip stabilizers.
4. Keep your heels down
Squatting with your heels off the ground causes 3 times more ACL loading compared to squatting with your heels flat – so when possible (ie if you haven't got incredibly tight calves) keep your heels flat on the ground. This is because having the heels raised up increases how far forward the knees go during a squat. As your knees go further forward the top of the tibia/ shin bone slopes down more – increasing the force on the ACL.
Note: This also applies to your shoes – If your wear shoes with big fat cushioned heels when working out – this can increase the shear force on your knee also.
5. Do not do resisted knee extensions
This is a pet hate of mine as it puts a huge amount of force through the the ACL and increases anterior tibial shear. The reason for this is because as an open chain exercise, it is working the quadriceps muscles in near-isolation, pulling the tibia forward and increasing ACL strain – Not what we want.
There are a lot of other exercises that would be far better to do such as leg presses, various forms of squats, lunges etc – these all have better co-contraction of knee stabilisers and importantly the hamstrings, leading to great ACL protection. When you are stronger and healing nicely it is important to do sports specific and functional rehab and so open chain exercises will be needed to have a strong knee – your Physio can progress you and guide you on to this as every knee is different.
For more specific information and data on ACL tensile forces during exercises, see this great paper by Escamilla et al.
Thanks for reading and good luck strengthening your knee!
Remember this is just a guideline to help your achieve your best and nothing is better than getting hands on input from your local Physio.