ITB syndrome can be painful and difficult to treat, BUT with the right pre-hab and IT band exercises, YOU don't have to worry about any of that!
Prevention = Cure!
ITB syndrome is all too common, with up to 12% of long distance runners affected and a huge 22% of US marine recruits suffering from this, it is a very, very important problem to not only treat right but prevent. This leads to less time out from sport, training and work  – and more time doing what you love!(1,2)
So to prevent this, we need to sort out the risk factors – lessening the chances of you having to take time out.
For more information on how ITB syndrome happens and the latest and greatest treatments, see our recent post here
The main risk factors are:
Downhill running(4)
Weak or inhibited lateral gluteal muscles (you hip stabilisers e.g.Gluteus medius)
Running around a track a lot in one direction
And greater than normal weekly mileage(3)
Now from that you can likely see that three of those points are easy to sort out. You can decrease downhill running and vary up your training more. you can run in both directions around a track, if you run n one. And you can make sure you don't increase your training miles by more than 10% per week – No problem.
But having weak lateral hips – That's something we really need to work at.
When your hip stabilisers don't fire up or are weak, this leads to poor control of your pelvis ad hip abduction. Because of this, other muscles have to compensate for this deficit, leading to tight muscles and poor hip extension. This is a big problem, particularly in runners and studies have shown that runners with ITB syndrome do have weaker abductors in the affected leg.(5)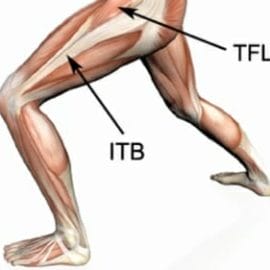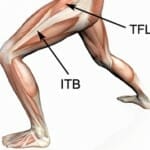 One of the muscles that takes over is your tensor fascia latae (TFL) – meaning it is working harder, often leading to spasm and tension. The clincher is that your TFL attaches into your ITB – That means if TFL tightens up, this tensions the band, making it tighter and tighter – causing compression at the knee and pain for you.
So here is the IT band exercises that we need to do:
Strengthen your lateral hip muscles
Improve glut activation
Loosen off and stretch compensatory muscles – e.g. TFL
The following exercises will do this and put you well on your way to being injury free!
1. Side plank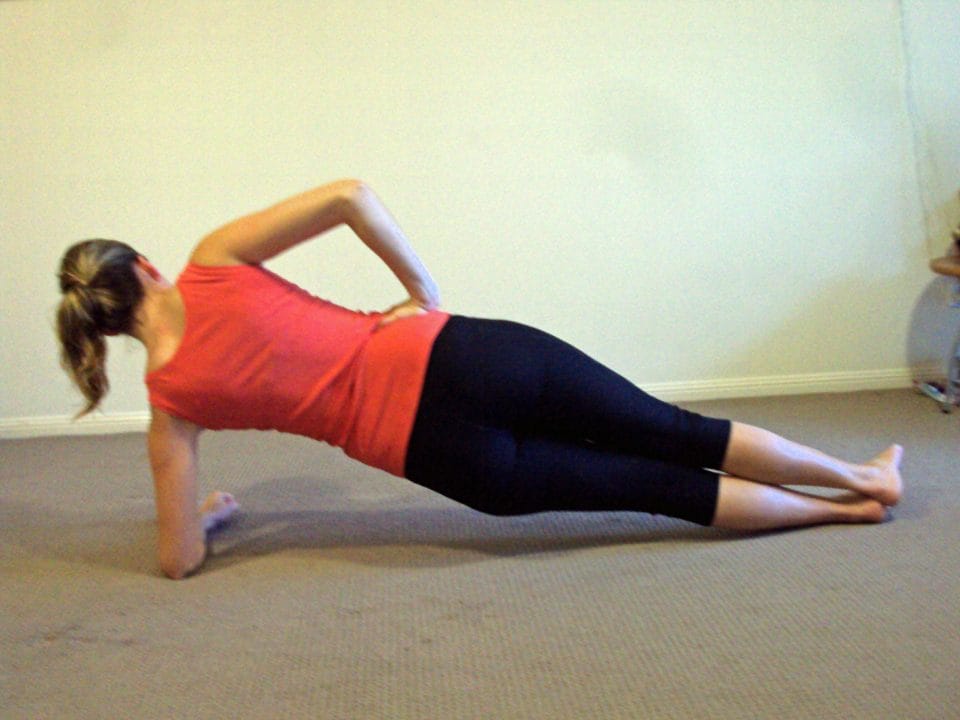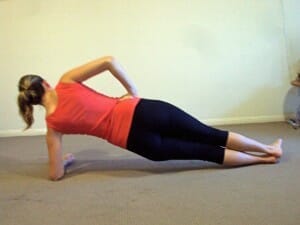 Level 1: Rise up into the position shown and hold for 30 seconds. Each time hold it for a little longer so that eventually you can hold it for two minutes.
Level 2: When you can easily hold it for two minutes, try doing side plank leg raises. This is where you rise into the side plank and then lift your top leg straight up and down. Begin this with 3 sets of 5 repetitions and build up, until you can do your goal of 30 in a row! (easily)
Note: If level one is too hard – bend your knees, so that you are lifting off your elbow and knee.
The side plank is great to getting your lateral gluts firing together with your obliques – just make sure you do not stick your bum out – bring it forward so that your body is straight.
2. Donkey kicks
Start on your hands and knee as shown and kick your leg out behind your slightly up towards the roof.
Perform 3 sets of 8 reps.
Note: to make this harder your can be on your toes instead of your knees on place your elbows on a gym ball.
3. TFL myofascial release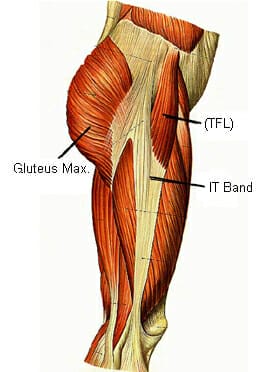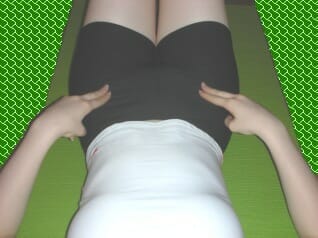 The TFL is, as you can see the image below a little muscle at the side of your hip. to find it, place your fingers on your ASIS which are the bones on either side of your pelvis at the front. From the side of these, drop down a couple of inches and you should be right on it!
I want you to lie on your side and place a ball under your TFL – you can use any ball you like, massage ball, lacrosse ball, tennis or golf ball. Then slowly roll the ball around that area, working out all the knots and tight spots – this can take 2-5 minutes but is well worth your time!
And remember, a bit of trigger point pain is expected here.
Interesting note for runners: Having a higher cadence (quicker strides) has been shown to lower the risk of ITB syndrome. This is because when you increase your cadence (which should ideally be 180 steps per minute) your land with your knee bent more and your foot below your knee – decreasing the force through the knee and making for more economical running.(5) This also links in with downhill running being a risk factor – when running downhill we land with our legs much straighter a position, placing a lot more force on our knees and hips.
And remember. You are much better off-putting in a little bit of time now that spending a lot of time AND money when you do get injured.
Invest in  yourself