Treating your shin pain and foot pain from stress fracture the right way, as soon as possible, means you heal faster and stronger. In this series on stress fractures, I will tell you what a stress fracture is, what causes them and most importantly what rehab exercises and self-treatment you can do to get it right.
Following on from the first post in the series which detailed what stress fractures and stress reactions are and why endurance athletes are so prone to shin pain and foot pain and what to do initially, this post gives you the rehab to help it heal faster, by covering phase 2 and 3 of stress fracture rehab.
Phase 2 – Strength, conditioning and rehab
When to start: Phase 2 of rehab from stress reactions starts when general activities of daily living (walking, hanging out washing etc) can be done without symptoms – Pain is an indication of overload to the bone in many cases, so we need to listen to our bodies.
The main three aspects that need to be covered in home rehab of stress fractures are:
Exercise to maintain cardiovascular fitness and prevent muscle loss

Rehab exercises to address cause behind the injury
So let's address those:
1. Maintain fitness
It is important to note that in most cases you don't have to completely rest – there is always something you can do, and very important not to lose fitness. So with that in mind, and the fact that exercise actually boosts healing, here are some things that you could do:
Pool training – this can start light, treading water in the deep pool and swimming, progressing to jogging in chest-deep water.
Stationary bicycle or exercycle – this is a great way to keep up the fitness without causing pain
When poor walking etc is pain-free, begin going for short walks and build this up. Eventually you should be able to walk without pain for 30 minutes at the end of this phase
Tip: Remember, you cannot return to loading the bone until the bone is pain-free to tap on and touch
2. Rehab exercises
These should aim to:
Increase muscular endurance
Improve core and pelvic stability
Work on balance training
Address flexibility issues
Re-train running pattern
Here are some great options to work on:
Heel raises to build calf endurance
Level 1: Start these on two legs, aiming for 3 sets of 10 reps
Level 2: When comfortable and pain-free, progress to single leg heel raises
Level 3: Goal: 30 heel raises in a row
One leg squats to retrain pelvic and lower limb stability
Aim for 3 sets of 10 reps.
These need to be done with good technique so it can help to do them in front of a mirror
Wobble board balance re-training
Re-training your balance and coordination of the muscles is very improtant, and easily done with either a wobble board or a Bosu ball.
Aim for at least one minute on each leg.
If you can't get a wobble board, try rolling up a towel firmly and standing on this
Stretching:
Calves
Hang one heel at a time off a step and hold for 30 seconds
Hamstrings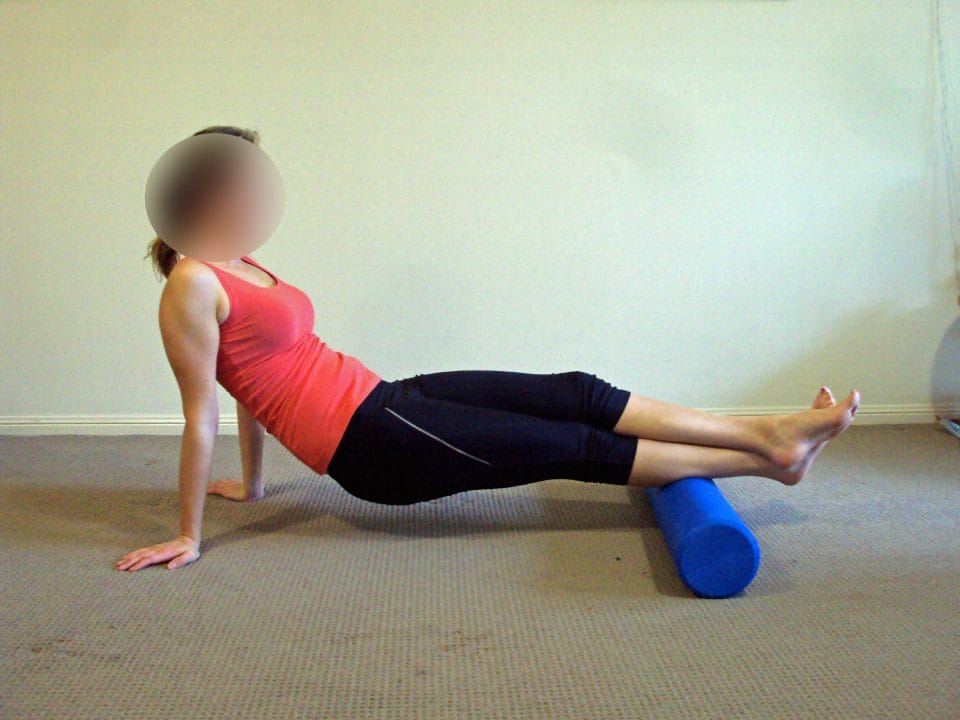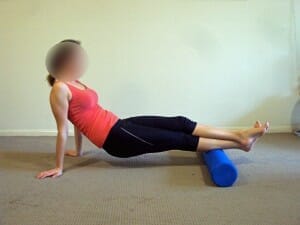 Stretch out your hamstrings up a doorway of wall as shown here and hold for at least 30 seconds each side
Alternatively you could use a Foam Roller
to loosen up your hamstrings and calves!
Tip: Continue to ice after exercise and exercise should always be pain-free – a return of shin pain or foot pain can't be taken lightly.
Phase 3: Safe progression back to full activity
Before starting this phase, you need to be able to do all the previous exercises and painfree and ideally be cleared by your physio or doctor.
When returning to running, a good guideline is to increase activity by no more than 15% to 20% per week. You should also be able to walk for 30 minutes comfortably and you can build this up the same way.
A good starting point, is to run 500m followed by a day of rest or a short walk. If this is pain-free, then you can jog 3 x weekly, ensuring that there are rest days
The distance above is just a guideline but basically start with a short distance and if this is pain-free, slowly increase this, never increasing by more than 15% per week. This is because bones take time to adapt, heal and get stronger – you need to give them this time and only increase in small amounts so as not to overload them.(1)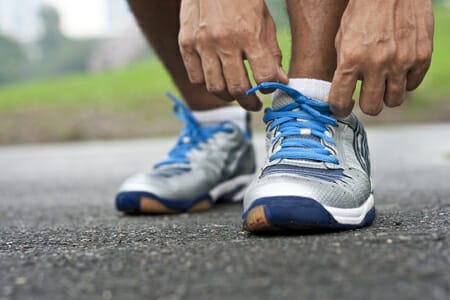 Tip: when returning to running, it is important to have the right technique – pay a visit to your local sports physio or appropriate professional to have this looked at and also to get some advice on footwear for you as this is very individual (but maybe stay away from minimalist or "barefoot" footwear and aim for motion controlled footwear initially (2).