Do your heels hurt from a lot of walking or running? Or have you been told that you have plantar fasciitis or a heel spur? Well, you are certainly not alone!
We have developed this comprehensive guide to give you the what, why and how to help fix plantar fasciitis.
What does the plantar fascia do
The plantar fascia is a strong band of connective tissue that starts at the bottom of your heel and runs along the bottom of the foot, attaching into the toes.Think of it like a big strong rope that supports your foot and helps you move.
It is important for:
Maintaining your arch when walking and running
Stabilises your arch: As you push off your big toe, the fascia is put on more stretch, which lifts up the arch into a more stable position so you can propel yourself forward. This is called the windlass mechanism. You can see in the diagram below how when the big toe is pushed up, that pulls on and tightens the fascia, lifting the arch up. For more info on the windlass mechanism, you can see this previous post.

What is plantar fasciitis
In a nutshell: It is a thickening of the plantar fascia due to overload.
A massive 4% of the population over 20 have plantar fasciitis and it is a massive cause of loss of function. It is essentially an overload injury where multiple factors combine to increase the load/pull on the fascia. This overload combined with not enough time for the tissue adapt leads to mal-adaption.
Essentially, it adapts wrong and ends up getting thicker and dysfunctional.
Other common names of Plantar Fasciitis
Plantar fasciopathy or fasciosis
Plantar heel pain
Is fasciitis inflammatory?
No. There has been shown to be some inflammation early on in the pathology but on the whole, it is not an inflammatory injury after the first 1-2 weeks.
This is why over the last ten years, a lot of the medical profession and research down around this condition have been leaning towards calling in plantar fasciopathy, not fasciitis. For now though and the purpose of this article, we will continue to call it fasciitis for continuity. (1)
Fasciitis symptoms
Pain upon waking and taking your first few steps –This "startup pain" is because your plantar fascia and calves have been in a contracted, shortened position all night.
Sharp stab or a dull ache in your arch or at the heel.
Pain after long period sitting.
Pain that eases gradually in a walk or run as it warms up
Risk factors for Plantar Fasciitis
Limited ankle or big toe range of motion
High body mass index/Overweight
Older age,
Prolonged standing.
The best Plantar Fasciitis Treatment
N
ow that you know the what, why and how of how fasciitis can happen, we can move on to the main thing. How you can help your plantar fasciitis get better, faster.
These are the main things that need to covered in a comprehensive treatment of plantar fasciitis
De-load the fascia through alteration of exercise or load
Support the foot and fascia
Improve strength of the calf muscles for better control and shock absorption
Reduce the pull on the plantar fascia by

Improving flexibility in the calf and plantar fascia
Improving ankle dorsiflexion range if needed

And last but importantly, we gradually load the plantar fascia to re-align the fibres and get rid of the thickening
Here are those steps laid out in far more detail:
1. Reduce load
Plantar fasciitis happens from the repeated load on the plantar fascia without enough recovery. So, simply, to help give it a chance to recover, we need to reduce the weight bearing load to a degree. It isn't about stopping completely, that is barely ever needed.
For Plantar Fasciitis, it is all about the relative rest
This means resting the fascia, compared to what it has been doing and what overloaded it. For example, if you were running 5 or 6 days a week, you could cut that down to 3 times per week, every second day. There isn't a set exact guide for this but the big thing is to listen to your body. If you have more morning pain the next day then ease off a bit more and don't do quite as much.
Not satisfied with decreasing your running or walking or too sore to keep going? Then on the rest days or as an alternative, try getting on a bike or rowing machine and get your exercise in another way.
2. Support the foot
Helping support under the plantar fascia and encouraging good foot motion can be great for relieving pain when you have plantar fasciitis. There are a few options to help here including:
Orthotics – These help support the medial arch and cushion the heel and are recommended for up to 1 year
Gel heel pads – Great to help reduce impact and give a soft surface for your heel
Fasciitis compression sleeves – These great socks can mimick arch taping really well and we have found they can give patients great relief
3. Improve strength
Studies have shown that people with plantar fasciitis have calf weakness, as well as ankle and calf tension2. This can increase load and contribute to fasciitis as the calf is then absorbing less impact and there is less control.
Strengthening the calf is important but often when the plantar fasciitis is irritated, it can be too sore to do. Never fear though, we have provided a couple of different levels of strengthening for you to work at daily:
level 1: Theraband Calf Strengthening
As per the picture below, push your foot down again a resistance band (TheraBand for example) and then control back up.
Repeat this for 3 sets of 12 repetitions and adjust the tension of the band to make it easier or harder
Level 2: Heel raises
Starting on two feet, and holding onto a wall if needed for support, raise up onto your forefoot as shown and then slowly control back down over three seconds.
Do this for 3 sets of 12 repetitions and when that is easy, start doing them on one leg at a time.
Note, if there is more than a little pain then start with level 1.
4. Reduce the pull
Both the calf and the plantar fascia attach onto the heel and some fibres of the Achilles tendon actually wrap around and attach to the plantar fascia. So it makes sense that any tension in the calf, plantar fascia or ankle can increase the pull at the heel and worsen fasciitis.
Here is a quick test t see if you have enough ankle range: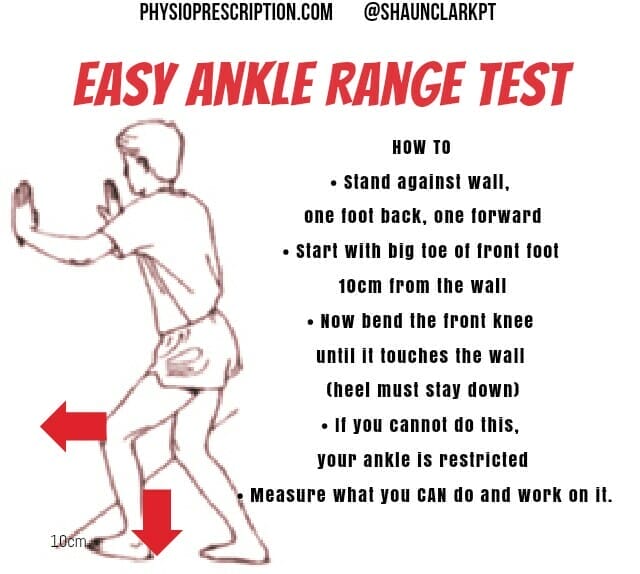 If you can't get your knee touching the wall when your foot is 10cm (4 inches) without your heel coming off the ground then you have some work to do! Here are the top three exercises to regain ankle range and reduce plantar fascia and calf tension:
1. Ankle mobilisation
Improve the dorsiflexion range in your ankle if you failed the ankle range test above. See the video demo below for an easy ankle self-mobilisation at home. Alternatively, if you don't have a band (you can get one here if needed), you can lunge your knee back and forth towards the wall for about 3 sets of 20 reps.
2. Calf stretch: Hang one heel off a step at a time to stretch out your calf and hold this for 30 seconds each side.
3. Plantar fasciitis deep massage: Use a hard ball or a massage ball to roll out the sole of your foot. Do this between the heel and balls of your foot, NOT under the heel. Do this slowly and firmly for 1-2 minutes to relieve the plantar fasciitis – You can also use a small frozen water bottle!
5. Gradually load
The final aspect of rehab is to load the plantar fascia. The idea behind this and in some recent, successful research is to treat it like a tendon injury. In tendon injuries such as Achilles tendinopathy, the tendon is thickened and the fibres and dysfunctional due to overload. The big part of tendon rehab thing that helps this a lot is putting gradually more load through the tendon. This causes the tendon to adapt and change for the better.
Looking at it like this and treating the plantar fascia like a tendon (even though it technically isn't) looks to be gaining good results in research and the clinic and is becoming a mainstay or plantar fasciitis rehab over the last few years.
If you want to read further about this, you can check out the main research paper here, with their main conclusion being:
High-load strength training may aid in a quicker reduction in pain and improvements in function
Otherwise, if you don't want to read a research paper:
This is the main exercise that is used to load and strengthen the plantar fascia to ultimately help fix plantar fasciitis
The high load strengthening exercise is done as per the image below. A small towel is rolled up to raise the toe up (hence, putting the plantar fascia on stretch) while doing a heel raise off a step. Go up and down slowly (count 3 seconds each) and hold at the top for 2 seconds.
This can be started two-legged and progressed to one-legged as it gets easier. You can then add a backpack with something heavy in it to add a little extra load. Keep doing this until you are pain-free.
Conclusion:
And that's it – all the information, treatments and tools that help fix plantar fasciitis.
Unload, Support and Gradually strengthen
Thanks for reading, you will most likely also enjoy our Comprehensive Plantar Fasciitis Rehab Guide
---