Running is one of the easiest ways to get exercise and improve our health. You don't need any fancy equipment, gym membership or even a lot of time, you can just get out the door and go. Because of this, running is becoming one of the most popular ways to exercise and with that, we are getting a lot of running injuries.
And do you know what? 60-70% of running injuries and avoidable.
If we asked a bunch of people in the street they would list of a few possible causes of running injuries such as:
Shoe type
Foot type
Flexibility
lack of stretching
We hear that all the time right, "foot pain because my feet are too flat", "back pain because my hamstrings and too tight", "knee pain because my shoes aren't supportive enough".
Well actually, that's not true at all; there has been no proven link between foot type and injury and the only shoe that prevents injury is the one that is most comfortable to you – it doesn't matter what foot type you have.
So the real cause of 60-70 of running injuries?
Training Error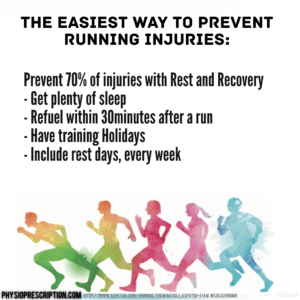 There is no evidence for stretching, running surface, warming up or cooling down in helping with prevent injury but there is a lot of evidence for injuries caused by an imbalance between training and recovery.(1)
So 2/3rd of all running injuries could be possibly avoided if we just had the right amount of recovery time to go with our training. It's why the British Journal of Sports Medicine showed that we should be training HARDER and SMARTER, meaning that yes, you should push yourself in training as that is how we improve but then you need the time in between for your body to change and improve.
And what is Runnersworld's simplest strategy for making the biggest difference to performance? not surprisingly, it's Rest and Recovery.
So there it is, the biggest thing you can do to improve performance isn't to running and far and as much as you can. It's training smart, working in rest days around your training and following these tips:
Get plenty of sleep. The Oregon Project athletes typically get 10–12 hours of sleep per night, as well as another hour nap most days
Fuel your body right. The 30 minutes after a run is the time when your body refuel the best so get some cards and protein in ASAP (ideally at a ratio of 4:1
Have training holidays. once or twice a year, have a week off from training to refresh the mind and body. It's better than being forced to take one due to injury or exhaustion right?
Have rest days every week. This doesn't mean you need full rest, but relative rest, it can be swimming, biking or a core day for example